Véronique BOULANGER, General Manager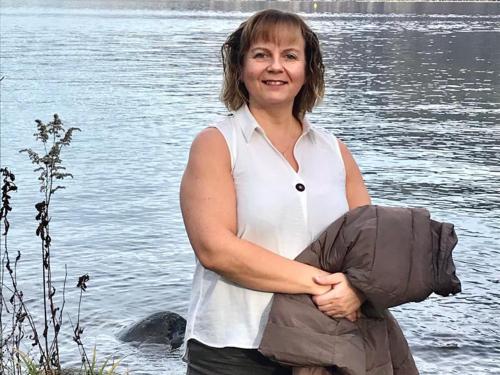 Véronique is still just a child when she is caught up in the hotel industry.
It is by regularly passing by a 3-star hotel, seeing the neat decoration of the lobby and the presence of the staff, that she already imagines herself as a receptionist.
At 18, particularly attracted to the hospitality industry, Véronique obtained a Bac Letters and Languages and began a trilingual hostess training for one year. During this training, she completed two internships: one in a travel agency, the other at the Novotel in Strasbourg South, where she was hired as a receptionist at the end of her training. She will work there for 2 years.
Then aged 21, she had an opportunity within the Accor group: to become assistant accommodation manager in a hotel located in her native region, in Valenciennes.
Eager to evolve, she decides, 3 years later, to apply for the management of an economic establishment within the same group.
Aware of her management skills, her director at the time offered r the position of manager at an nearby Ibis Budget hotel.
This is how she embarked on a new training as manager-trainer which enabled her to become a hotel manager, and, in parallel, to train new managers who would join the group.
16 years later, Véronique needs to take on new challenges. She still wishes to work as a manager, but in another sector than than the hospitality industry.
Willing to keep that guest contact she loves so much, she applied for the position of director in a personal services agency in Annecy.
She then finds herself in charge of managing 90 mobile employees but does not flourish in her duties, her tasks not being diversified enough.
Véronique then decides to return, after 2 years of absence, to her chosen sector, but no director position is available in Annecy at that time.
She then provisionally accepted a night receptionist position in a 3-star establishment.
On the recommendations of her employer, she was very quickly put in touch with an establishment of the same standing, who was looking for an assistant director, Le Flamboyant ***.
She is hired but, 3 years later, she has the feeling of having toured the station and of needing to have more control over the management of the establishment in which she works.
Luckily, the NEHÔ group is looking for a director for its 3-star establishment in Annemasse. The turning point that Véronique expected in her career has finally arrived!
In 2018, she joined the residence Comfort Suites Porte de Genève *** and has since felt perfectly in her element.
What she likes above all: the fact that the days follow each other but are not alike, the contact with the guest and the management of the teams.
In her spare time, Véronique enjoys cycling and dancing twice a week with rock and west coast swing lovers.